Medical Laboratory Technician Associate Degree Program
Break into the field as a medical laboratory technician.
Program Type
Associate Degree
Course Length
Approximately
19 months
At Pima Medical Institute, this associate degree program will provide you with the clinical and professional skills necessary to work as an efficient and confident entry-level medical laboratory technician. This role requires knowledge of laboratory testing, achieved through hands-on activities and lab exercises that prepare you for testing procedures, safety protocols, universal precautions and personal protective equipment. You will also learn how to differentiate normal and abnormal results.
What Is a Medical Laboratory Technician?
What Does a Medical Laboratory Technician Do?
What Will I Learn?
How Do I Get Certified as a Medical Laboratory Technician After Graduation?
What Is a Medical Laboratory Technician?
A medical laboratory technician is a medical professional who performs tests that help physicians and nurses diagnose, monitor, prevent and treat diseases. This role is integral to healthcare teams.
What Does a Medical Laboratory Technician Do?
What Will I Learn?
How Do I Get Certified as a Medical Laboratory Technician After Graduation?
Find this program at one of the following Pima Medical Institute campuses.
Careers for Medical Laboratory Technicians
What Are My Career Opportunities as a Medical Laboratory Technician?
What Are My Career Opportunities as a Medical Laboratory Technician?
This associate degree program will prepare graduates to apply their skills in a variety of environments, such as:
Hospitals
Physicians' offices
Urgent care facilities
Health department labs
Drug screen labs
Research labs
Independent labs
Job Outlook
Job Outlook
An increase in the aging population is expected to lead to a greater need to diagnose medical conditions, such as cancer or type 2 diabetes, through laboratory procedures.
According to the U.S. Bureau of Labor Statistics, the overall employment of clinical laboratory technologists and technicians is projected to grow from 2019 to 2029.
When you're a Pima Medical Institute student, you get access to our Career Services team—here for you when you need extra help with finding the right job opportunities, building a resume, strengthening your interview skills or just looking for general guidance.
At Pima Medical Institute, most programs allow students to work in their field through clinical externships—a chance to be mentored by full-time professionals and interface with real patients.
In addition to real-world experience, clinical externships offer students resume-worthy opportunities, letters of recommendation from supervisors and sometimes job placement directly after graduation.
Learn more about the courses in this program.
Add Your Heading Text Here
Semester l
AP 120
Anatomy and Physiology I
BIO 123
General Biology
CMT 120
Medical Terminology
MTH 160
Math for Medical Specialties
MLT 101
Introduction to Medical Lab
MLT 112
Instrumentation and Quality Control
Semester lI
AP 130
Anatomy and Physiology II
CCM 116
Communication for Health Care Professionals
CHM 101
General and Organic Chemistry
MLT 122
Microbiology I
MLT 141
Clinical Chemistry
Semester III
CLE 100
Medical Law and Ethics
MLT 123
Microbiology II
MLT 132
Hematology I
MLT 162
Immunology and Serology
PHL 115
Phlebotomy
Semester IV
CMS 101
Career Marketing Strategies
MLT 133
Hematology II
MLT 171
Urinalysis and Body Fluids
MLT 182
Hemostasis and Coagulation
MLT 201
Immunohematology and Blood Banking
Semester V
MLT 205
Medical Laboratory Review
MLT 210
Externship
Interested In Starting This Program?
We are truly invested in making sure our students succeed.
"Even though the obstacles were great, my family and my instructors made the transition and process smooth and efficient. The MLT program instructors, program director and administrative staff were always available to help with whatever I needed. During my externship, I was hired as a quality specialist for a microbiology department with Infinity Laboratories. I've since decided I want more and am hoping to be accepted into a physician assistant program in the near future."
Sheila Kirkpatrick, Medical Laboratory Technician Graduate
Check out our blog posts on the Medical Laboratory Technician program. We provide insights, information, alumni spotlights, news and other valuable articles to keep you updated.
Cassandra Altrich knew she wanted a career in the medical field, but couldn't quite find a program that felt like it fit her. That is,…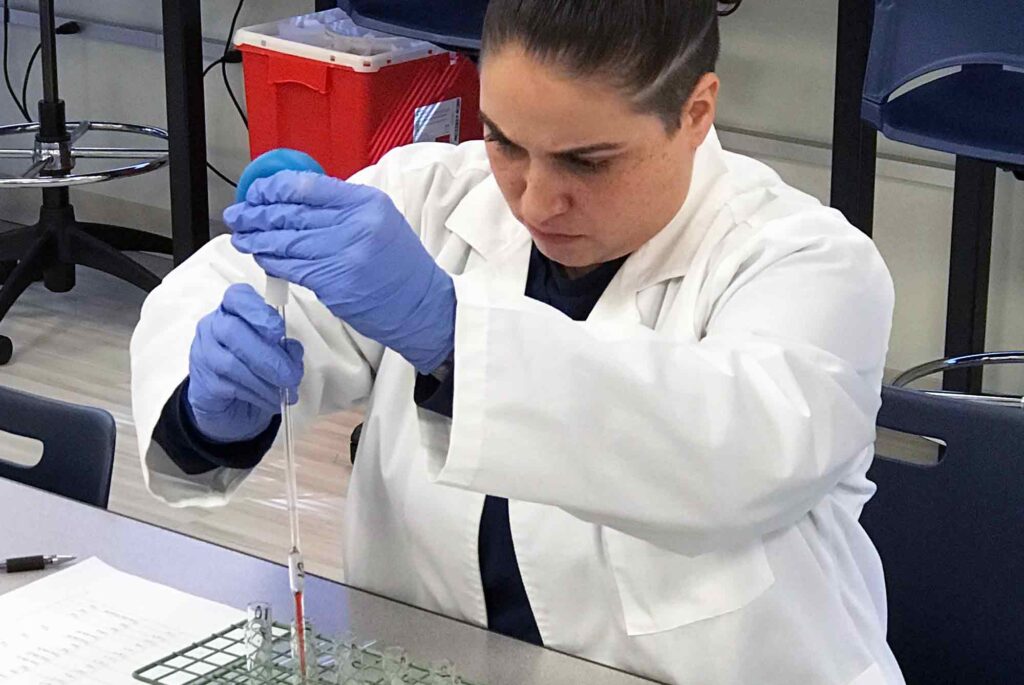 Medical laboratory professionals are crucial to every healthcare team as they collaborate with doctors, nurses and other medical workers to help diagnose patients. These roles…
Choosing the right healthcare career is a very important decision and weighing the advantages and disadvantages is essential. So, before committing to the medical laboratory technician field,…
Disclosures And Accreditations
The Medical Laboratory Technician program is offered via on-ground and hybrid delivery methods. The program is available to residents of Colorado. The state of Colorado does not require licensure or credentialing to obtain employment as a medical laboratory technician. While there may be online components, completion of this program requires on-ground attendance at the Colorado Springs campus and cannot be completed solely via distance education. Prospective students and enrolled students should understand that moving out of Colorado may adversely impact a student's ability to complete the program. If a student is planning to relocate outside of Colorado he or she is required to discuss this with the Student Services Coordinator and/or Program Director.
In compliance with 34 CFR 668.43 Pima Medical Institute has made a reasonable effort to determine graduate eligibility for licensure in all states for programs designed and advertised as leading to licensure. The document below lists Pima Medical Institute programs and states where the curriculum meets licensure requirements, states where the curriculum does not meet licensure requirements, and states in which Pima Medical Institute has been unable to determine if the curriculum meets state licensure requirements. All consumers should be advised that due to the frequent changes to state statutes, rules, and regulations Pima Medical Institute cannot guarantee licensure based on the lists below.
State Licensure Determination Disclosure – Associate Degree
Contact information for state licensing boards in which Pima Medical Institute has determined the program does not meet state licensure requirements or where Pima Medical Institute has been unable to determine if the program meets state licensure requirements can be found below.
Start Your Future as a Medical Laboratory Technician
Request more information below and our team will be in touch with you as soon as possible. Or give us a call at
(800) 477-7462
to speak with someone right away.