Nursing Associate Degree Program
Start your path to becoming a Registered Nurse.
Program Type
Associate Degree
Course Length
Approximately
20 months
This associate degree program will prepare you with the personal and professional traits required to work as an outstanding entry-level nurse. Courses cover a broad range of topics including anatomy, physiology, growth/development, pharmacology, nursing theory and the necessary skills for patient care at all stages of life. At Pima Medical Institute, this program features extensive hands-on training and lab exercises that will give you an edge when you enter the workforce.
What Is a Nurse?
What Does a Nurse Do?
What will i Learn?
How Do I Get Certified as a Nurse After Graduation?
What Is a Nurse?
A nurse is a vital part of any medical team, assisting physicians and other team members with various duties. They provide direct patient care in a number of settings.
What Does a Nurse Do?
What will i Learn?
How Do I Get Certified as a Nurse After Graduation?
Find this program at one of the following Pima Medical Institute campuses.
What Are My Career Opportunities as a Nurse?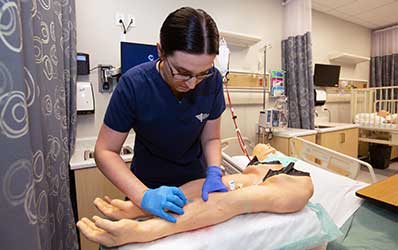 What Are My Career Opportunities as a Nurse?
This associate degree program will prepare graduates to apply their skills in a variety of environments, including:
Hospitals
Healthcare facilities
Clinics
Community health organizations
Schools
Long-term care facilities
In-home health
Physicians' offices
Outpatient clinics
Job Outlook
Job Outlook
The need for registered nurses is expected to grow for a number of reasons, including an increased emphasis on preventive care; increasing rates of chronic conditions, such as diabetes and obesity; and demand for healthcare services from the baby boom population, as this group leads longer and more active lives.
According to the U.S Bureau of Labor Statistics, the employment of registered nurses is projected to grow significantly from 2020 to 2030.
Continued Education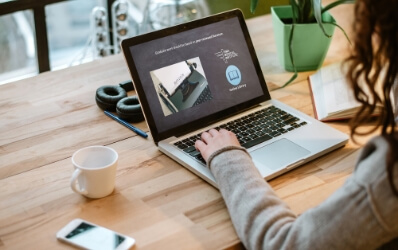 Continued Education
When you're a Pima Medical Institute student, you get access to our Career Services team—here for you when you need extra help with finding the right job opportunities, building a resume, strengthening your interview skills or just looking for general guidance.
At Pima Medical Institute, most programs allow students to work in their field through clinical externships—a chance to be mentored by full-time professionals and interface with real patients.
In addition to real-world experience, clinical externships offer students resume-worthy opportunities, letters of recommendation from supervisors, and sometimes job placement directly after graduation.
Learn more about the courses in this program.
Add Your Heading Text Here
Semester l
ENG 127
Composition and Communication
BIO 147
Human Anatomy and Physiology
MTH 155
Applied Mathematics and Drug Calculations
HSC 125
Introduction to Healthcare
NUR 106
Nursing Foundations Lab
PHI 116
Foundations of Human Potential
NUR 103
Strategies for RN Success
Semester II
PSY 160
Human Development
BIO 175
Pathophysiology
PHA 109
Pharmacology
NUR 111
Pharmacology for Health Promotion and Maintenance
NUR 126
Nursing's Role in Health Promotion
Semester III
BIO 185
Nutrition
PSY 225
Family Centered Care Across the Lifespan
NUR 234
Acute Care Nursing Across the Lifespan
NUR 256
Mastery of Integrated Nursing Concepts
Semester IV
SOC 245
Sociology of Health
NUR 209
Pharmacology for the Complex Patient
NUR 276
Nursing Care for the Complex Patient
Semester V
HSC 280
Healthcare Informatics
NUR 286
Nursing Care in Challenging Situations
NUR 296
Role Development of the Graduate Nurse
Interested In Starting This Program?
We are truly invested in making sure our students succeed.
"I was in my position for only three weeks when COVID-19 hit. It's hard to be prepared for a pandemic, but I felt qualified to care for COVID-19 patients. It's a tough time to be a healthcare worker right now. But, even though we are weary and tired, we also feel fulfilled. I would recommend Pima Medical's Nursing program. I never imagined one year after graduating, I would be able to buy my own house. I have security and a career I love."
Betsy J., Nursing Graduate
Check out our blog posts about Nursing. We provide insights, information, alumni spotlights, news and other valuable articles to keep you updated.
A nurse is at the core of any medical team. Working directly with patients, nurses need a strong educational background and to be skilled at…
The great thing about a nursing career is its variety. Nurses may work in traditional settings, such as the hospital or doctor's office, but they…
Grace Lynn Griffith is a graduate of Pima Medical's Mesa campus associate degree in Nursing. She went on to complete her Bachelor of Science in…
Disclosures And Accreditations
The Associate Degree Nursing program is offered via on-ground and hybrid delivery methods. The program is available to residents of Arizona and is approved for licensure by the Arizona State Board of Nursing. While there may be online components, completion of this program requires on-ground attendance at the campus at which the student is enrolled and cannot be completed solely via distance education. Prospective students and enrolled students should understand that moving out of the state may adversely impact a student's ability to complete the program. If a student is planning to relocate out of the state he or she is required to discuss this with the Student Services Coordinator and/or Program Director.
After licensure is obtained in Arizona, transfer of state licensure may be available via state reciprocity compacts. Prospective students and current students are strongly encouraged to contact the state professional licensing board or similar regulatory body in the state(s) where they plan to work to determine requirements before enrolling in a program.
In compliance with 34 CFR 668.43 Pima Medical Institute has made a reasonable effort to determine graduate eligibility for licensure in all states for programs designed and advertised as leading to licensure. The document below lists states where the curriculum meets licensure requirements, states where the curriculum does not meet licensure requirements, and states in which Pima Medical Institute has been unable to determine if the curriculum meets state licensure requirements. All consumers should be advised that due to the frequent changes to state statutes, rules, and regulations Pima Medical Institute cannot guarantee licensure based on the lists below.
State Licensure Determination Disclosure – Nursing Programs
Contact information for state licensing boards in which Pima Medical Institute has determined the program does not meet state licensure requirements or where Pima Medical Institute has been unable to determine if the program meets state licensure requirements can be found below.
Start Your Future in Nursing
Request more information below and our team will be in touch with you as soon as possible. Or give us a call at
(800) 477-7462
to speak with someone right away.