Expanded Duties Dental Assistant Training Program
Expand your dental assisting skills to boost your career.
Program Type
Training Program
Expanded Duties Dental Assistant Program Description
The Expanded Duties Dental Assistant (EDDA) training program is offered exclusively at our Colorado campuses. In this course, dental assistants will gain added skills and knowledge necessary to perform advanced techniques, procedures and applications all while preparing them for advanced dental assistant employment. This course is taught by experienced instructors and features relevant, real-world training. Students earn continuing education credits while expanding their skillset.
What Will I Learn?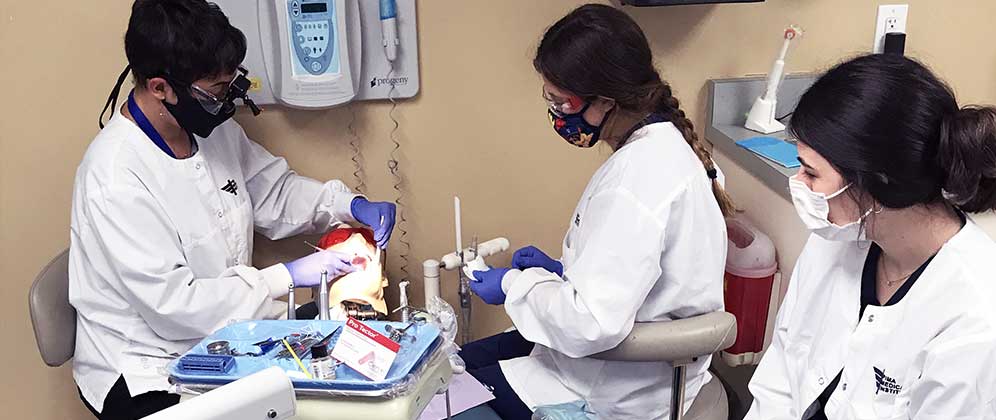 Students in the Expanded Duties Dental Assistant training program will learn how to proficiently identify cavity classifications, pack, carve and polish amalgam restorations, place temporary filling materials or ion crowns and more.
Find this program at one of the following Pima Medical Institute campuses.
When you're a Pima Medical Institute student, you get access to our Career Services team—here for you when you need extra help with finding the right job opportunities, building a resume, strengthening your interview skills or just looking for general guidance.
Learn more about the courses in this program.
Add Your Heading Text Here
Semester l
PSY 125
Psychology
CCM 145
Communications and Composition
Semester lI
PSY 125
Psychology
CCM 145
Communications and Composition
Interested in Starting this Course?
We are truly invested in making sure our students succeed.
"After 12 years as a dental assistant, I knew there was more for me in the dental profession. When I heard Pima Medical was offering a Dental Hygiene program, I jumped at the opportunity. I am a 35-year-old parent of two boys and the thought of quitting my job to attend school was quite daunting, but I forged ahead and was committed."
Monica Candelaria-Wright, Dental Hygiene Graduate
Check out our blog posts on Dental Hygiene. We provide insights, information, alumni spotlights, news and other valuable articles to keep you updated.
Pima Medical Institute is proud to announce the launch of its new Computed Tomography (CT) certificate program, providing ARRT registered radiologic technologists the opportunity to…
The fast-paced world of hospitals and surgery centers rely on the surgical team to ensure safe and successful outcomes. Two crucial roles are often confused…
Disclosures And Accreditations
Advance Your Dental Assistant Career
Request more information below and our team will be in touch with you as soon as possible. Or give us a call at
(800) 477-7462
to speak with someone right away.