Sterile Processing Technician Certificate Program
Start your healthcare career.
Course Length
Approximately
9 Months
This certificate program gives you the opportunity to develop the skills needed to perform as a capable entry-level sterile processing technician. At Pima Medical Institute, courses cover important topics such as knowledge of surgical instruments, microbiology, medical equipment, surgical terminology, storage and distribution. Sterilization and decontamination skills will also be developed.
What Is a Sterile Processing Technician?
What Does a Sterile Processing Technician Do?
What will i Learn?
How Do I Get Certified as a Sterile Processing Technician After Graduation?
What Is a Sterile Processing Technician?
A sterile processing technician is a valuable member of a medical care team. They are in charge of maintaining the cleanliness, functionality and inventory of healthcare instrumentation and equipment, working mainly in the sterile processing and distribution areas of healthcare facilities.
What Does a Sterile Processing Technician Do?
What will i Learn?
How Do I Get Certified as a Sterile Processing Technician After Graduation?
Find this program at one of the following Pima Medical Institute campuses.
Careers as a Sterile Processing Technician
What Are My Career Opportunities as a Sterile Processing Technician?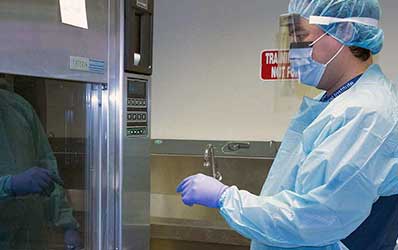 What Are My Career Opportunities as a Sterile Processing Technician?
This certificate program will prepare graduates to apply their skills in a variety of environments:
Hospitals
Emergency rooms
Intensive care unit
Labor & delivery unit
Operating rooms
Dental/eye care practices
Plastic surgery offices
Surgery centers
Laboratories
Job Outlook
Job Outlook
Continued Education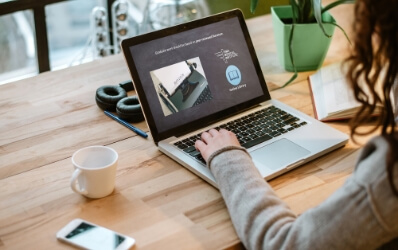 Continued Education
When you're a Pima Medical Institute student, you get access to our Career Services team—here for you when you need extra help with finding the right job opportunities, building a resume, strengthening your interview skills or just looking for general guidance.
At Pima Medical Institute, most programs allow students to work in their field through clinical externships—a chance to be mentored by full-time professionals and interface with real patients.
In addition to real-world experience, clinical externships offer students resume-worthy opportunities, letters of recommendation from supervisors, and sometimes job placement directly after graduation.
Learn more about the courses in this program.
Career Prep Sequence
CSK 100
Study Skills*
CAT 150
Anatomy, Physiology and Terminology*
CCB 100
Computer Basics*
CMF 95
Math Fundamentals*
CHS 100
CPR & First Aid*
Professional Sequence I
CSP 105
Surgical Instruments
CSP 110
Microbiology and Infection Control
CSP 100
Principles and Practices of Sterile Processing
Professional Sequence II
CSP 120
Sterilization Procedures and Practice
CSP 130
Storage and Distribution
Professional Sequence III
CSP 140
Decontamination Procedures and Practice
CSP 150
Medical Equipment
CSP 115
Surgical Terminology
Externship
CSP 180
Externship
CSP 190
Certification Review
Interested In Starting This Program?
We are truly invested in making sure our students succeed.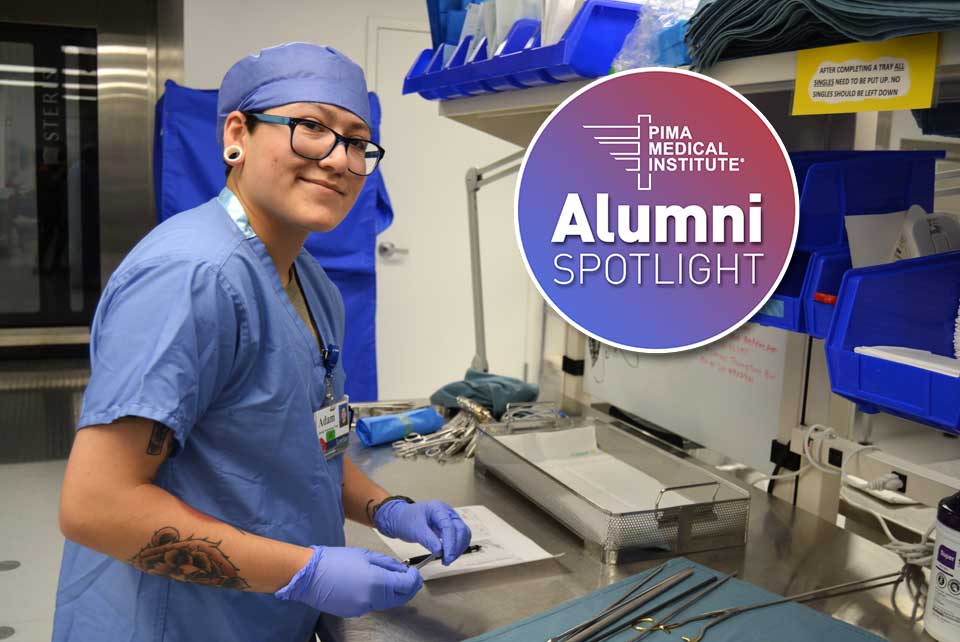 "I learned so much at Pima Medical and felt like they prepared me for this career. I am working at Lovelace Hospital as a Sterile Processing Technician (SPT). Basically, I take the instruments used in the operating room for a specific surgery, reprocess them from dirty to sterile instruments and then reorganize them in preparation for the next surgery."
Adam Gutierrez, Sterile Processing Technician Graduate
Check out our blog posts on the Sterile Processing Technician program. We provide insights, information, alumni spotlights, news and other valuable articles to keep you updated.
Late last year, Pima Medical Institute and Banner Health entered into a partnership aimed at assisting current employees to advance their careers within the Banner…
Why is sterile processing important? What is the difference between a sterile processing technician and a surgical technologist? What is the average salary for a…
Sterile processing technicians get to work behind the scenes in the medical field. They are the backbone of healthcare as they ensure all equipment and…
Disclosures And Accreditations
The Sterile Processing Technician program is available to residents of Arizona and Colorado, states that do not require licensure or certification to obtain employment in the field. Graduates of this program are eligible to apply to take the CRCST Credentialing Examination.
The SPT program is offered via on-ground and hybrid delivery methods. While there may be online components, completion of this program requires on-ground attendance at the campus at which the student is enrolled and cannot be completed solely via distance education. Prospective students and enrolled students should understand that moving out of the state in which they enrolled may adversely impact a student's ability to complete the program. If a student is planning to relocate outside of their state of enrollment he or she is required to discuss this with the Student Services Coordinator and/or Program Director.
In compliance with 34 CFR 668.43 Pima Medical Institute has made a reasonable effort to determine graduate eligibility for licensure in all states for programs designed and advertised as leading to licensure. The document below lists Pima Medical Institute programs and states where the curriculum meets licensure requirements, states where the curriculum does not meet licensure requirements, and states in which Pima Medical Institute has been unable to determine if the curriculum meets state licensure requirements. All consumers should be advised that due to the frequent changes to state statutes, rules, and regulations Pima Medical Institute cannot guarantee licensure based on the lists below.
State Licensure Determination Disclosure – Certificate Programs
Licensing Board Contact Information – Sterile Processing Technician
Start Your Future as a Sterile Processing Technician
Request more information below and our team will be in touch with you as soon as possible. Or give us a call at
(800) 477-7462
to speak with someone right away.