Pima Medical Institute expanded its healthcare career program offerings in the state of Arizona, with a new campus located on the west side of Phoenix. The 37,500-square-feet campus boasts new, hands-on laboratories, experienced faculty members who have worked in the fields they teach and several programs to choose from.
The campus is conveniently located by West Thunderbird Road and Interstate 17 and serves students from throughout the Phoenix metro area, including Glendale, Scottsdale, Peoria and other areas.
Staff
The staff is there to help students every step of the way—from the first day they tour the campus to the day the graduate and beyond. Students will receive excellent, hands-on training and then go on to their clinical externship, where they will work in the field they've studied. Once they graduate, Pima Medical's career services advisers are available to help students find the right job.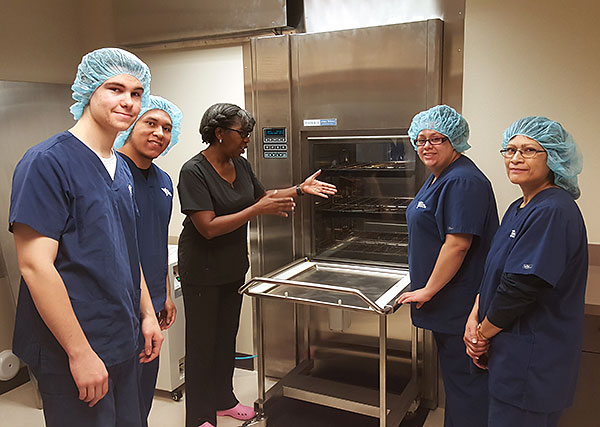 Students learn about sterilization equipment at Pima Medical's Central Sterile Processing lab in Phoenix.
Medical Programs Available at Phoenix Campus?
There are six certificate programs and one associate degree program offered at the Phoenix campus, and we are always examining the healthcare employment market to see what else we can offer in the future. Here's what you should know about the programs:
Certificates
Become an integral part of a team that keeps healthcare instrumentation and equipment sanitary for the emergency department, intensive care unit, labor and delivery unit, operating room and other areas.
Work in a hospital, dental or eye care practice, plastic surgery office, surgery center or lab.
Program is approximately nine months from start to finish.
Provide important services to patients, dentists and dental hygienists, such as preparing patients for exams and treatments, taking X-rays, sterilizing instruments and equipment, providing postoperative care instructions, educating children and adults on proper dental hygiene.
Program is approximately nine months from start to finish.
Help keep doctors' offices running smoothly by assisting patients at the front desk when they check in, make follow-up appointments, set up lab visits, and other services.
Learn how to manage electronic healthcare records.
Program is approximately eight months from start to finish.
Work alongside doctors and nurses in taking patients' vital signs, recording medical histories, explaining treatment procedures to patients, preparing them for exams, preparing laboratory specimens or conducting basic laboratory tests, authorizing prescription refills, and more.
Work in doctors' offices, clinics, hospitals and other healthcare settings.
Program is approximately eight months from start to finish.
Become an important member of the clinical laboratory team by learning how to draw blood and take blood specimens to labs for testing.
Learn CPR and First Aid, anatomy and physiology, venipuncture, urinalysis and centrifuging—all parts of the study of phlebotomy.
Program is approximately three months from start to finish.
Work with a veterinary team, where you clean teeth, help with animal nursing, sterilizing lab and surgical equipment, assist with surgeries provide oral or topical medication, draw blood, collect specimens, and more.
Program is approximately nine months from start to finish.
Associate Degree
Help in the care of animals by performing various medical tests, treating medical conditions and diseases, assisting in surgery, conducting lab procedures and X-rays, provide medication, and more.
Work in a variety of settings, including veterinary clinics, animal hospitals, biomedical facilities, diagnostic laboratories, wildlife facilities and animal shelters.
Program is approximately 18 months from start to finish.
When can you take classes at the Phoenix campus?
Like at all Pima Medical Institute campuses, class times are designed around students' busy schedules. They may already be working or raising a family. At the Phoenix campus, morning and afternoon courses are available. Morning courses run from 8 a.m. to noon; afternoon classes from 1 to 5 p.m. Both morning and afternoon classes are Monday through Friday and new classes start each month.
Does the Phoenix Campus have Career Services?
We know that getting the bills paid while in school can be a challenge, and it can lead to students giving up on their dream—something we never want to see happen. By working closely with employers that understand school comes first, Pima Medical's Phoenix campus helps students find a temporary job that will allow them to work flexible hours while in school.
The campus is also always adding externship and job sites, so that students have as many opportunities as possible. Just during the spring/summer of 2016, the campus has added more than 60 new sites, and it's continuing to grow relationships with healthcare employers throughout the valley. Students are encouraged to take advantage of the campus' Career Services Department, where they can get guidance during their externship and career-placement assistance in their chosen field.
Anyone can stop by Monday through Friday for a tour. The campus is located at 13610 N. Black Canyon Highway. Tours include an inside look at the school's hands-on laboratories and equipment, the classrooms, an introduction to faculty and current students, enrollment information and resources on financial aid.