When someone realizes they want more from their career and want to make a change, the uncertainty can be scary. Between personal commitments, and everyday life it may seem like an impossible task.
2013 Dental Hygiene graduate Monica Candelaria-Wright proves that there is hope and taking a leap of faith could change your life. Just like it did hers.
Dental Hygiene graduate Monica Candelaria-Wright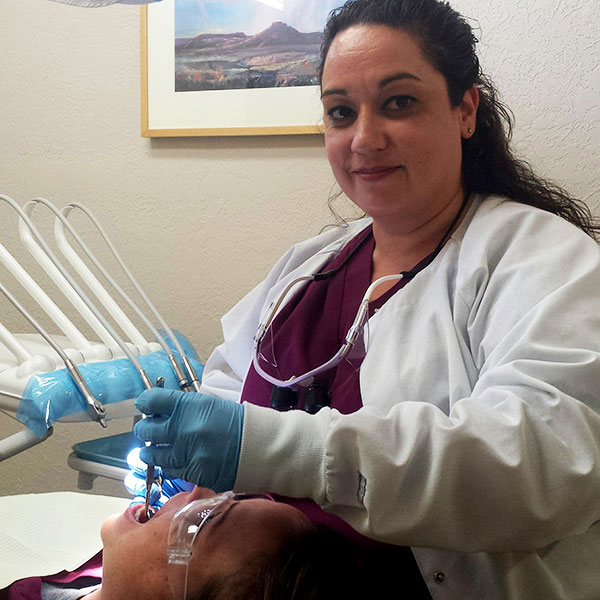 "After 12 years as a dental assistant I knew there was more for me in the dental profession. When I heard Pima Medical was offering a Dental Hygiene program, I jumped at the opportunity. I am a 35-year-old parent of two boys and the thought of quitting my job to attend school was quite daunting, but I forged ahead and was committed. The Dental Hygiene program was an accelerated, challenging opportunity and despite the sweat, tears, countless study sessions, long nights of studying and many other sacrifices, I completed the program and became a Board Certified Registered Dental Hygienist!
I appreciated my education at Pima Medical and was continually impressed by the knowledge and willingness of the instructors and administration to ensure my educational success. I was prepared in every way, from classroom, to clinical lab, to my job. After passing my boards, I had three job offers. Since graduation, I have been employed in an amazing dental office doing what I love. I am even considering furthering my career goals by attending Pima Medical for a bachelor's degree.
I am so grateful for everything Pima Medical and my instructors have done for me. I was even given a once-in-a-lifetime opportunity to practice my profession on a missionary trip to Africa provided by the previous CEO of Pima Medical, Mr. Richard Luebke, Jr. Pima Medical truly cares for their students and provides opportunities not available anywhere else. I would definitely recommend Pima Medical to anyone seeking a way to achieve their career goals and make a better life!"
Dental hygienists are highly valued members of the dental care team. They work directly with patients, helping them properly care for their oral health. Dental hygienists clean and polish teeth, and take X-rays and molds. They also perform some administrative duties, such as recording patients' dental histories and updating charts.
The Dental Hygiene program is offered at our Albuquerque, Seattle and Houston campuses. Get more information on how you can start on your journey to a dental hygiene degree here.